Tile and Civilization
Ceramic is almost indestructible, which is why it is one of the first things archeologists unearth when searching for evidence of early civilizations. Ancient broken pottery is almost the same stuff our modern tile floors and walls are made of. Its toughness is the reason why tile is so popular in our homes. Its glazed finish resists all types of stains and soil and wipes up easily with a damp cloth. It's an unfortunate fact of life that wonderful, carefree tile is surrounded by problem-causing grout.
Care of Ceramic Tile
Keeping tile clean and shiny is easy – all you need is to sweep and mop them regularly with water and a small amount of dishwashing liquid. You can also use a pH neutral, non-abrasive floor cleaner or tile cleaner for your tile floors. Change the mop water as soon as it becomes a bit cloudy. Too much dishwashing soap or dirty mop water will leave a dulling or sticky film on the tiles. But since it is the grout that usually gets stained and dirty and causes all our cleaning problems, what do we do about the grimy grout?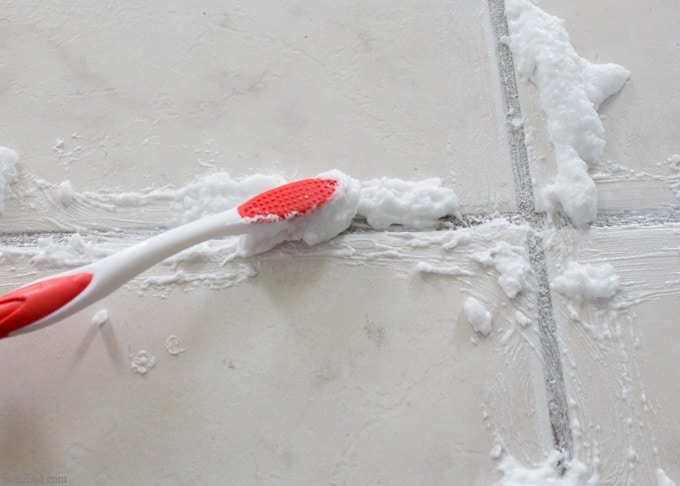 The Headache of Cleaning Grout
Remember, prevention is easier than the cure, so wipe up spills quickly. For stained grout, scrub with a heavy-duty cleaner and an old toothbrush or grout brush to get your grout as clean as possible. To remove mold and mildew from tiles and grout use a solution of a ¾ cup of bleach to a gallon of water and scrub with a grout brush to get at the grout. Rust deposits usually respond to a little white vinegar and water plus a thorough rinsing. You might also try a professional product for mildew removal or mineral deposits.
Caution
Be careful with colored grout and test products in an inconspicuous place first, like bleach, vinegar or powdered scouring cleansers may remove color. Look for a professional product formulated for colored grout.
Sources:
Mendelson, Cheryl. Home Comforts: The Art and Science of Keeping House. Scribner, 1999.
Aquires, Kathleen. Real Simple Cleaning. Time Inc. Home Entertainment, 2007
Aslett, Don. The Cleaning Encyclopedia: Your A to Z Illustrated Guide to Cleaning Like a Pro. Dell Publishing, 1993.
Additional Resources:
Your Family's Health Matters to Us
At Castle Keepers House Cleaning, the #1 way we prevent the spread of infection in your home is by using PerfectCLEAN® microfiber cloths. These cloths remove 99% of organic matter from surfaces. They also contain anti-microbial threads, which kill any germs caught in the fibers. 
As an extra precaution, we color code our cloths to prevent cross-contamination between rooms. 
Get an Instant Price in a Minute!
Get a quick online quote and schedule an appointment now. Our online booking is easy and convenient.
About Castle Keepers House Cleaning
Castle Keepers House Cleaning has been at the forefront of innovation and leadership among house cleaning professionals for years. Our company pioneered environmentally friendly and sustainable cleaning methods in residential cleaning. Castle Keepers House Cleaning is independently owned, not a franchise, with branches in Atlanta, GA, Charleston, SC, Greenville, SC. To schedule your cleaning service, contact us today at 888-302-5582 or Request a FREE Estimate online!
LET US DO THE CLEANING. YOU DO THE RELAXING.